Since A4 there are some randomized locations to be found to occupy your time and since they are different for each player/hero there has not been a general hints thread for them as there are for other locations. But some parts are similar and have been giving people headaches so I decided to gather some hints (and a few spoilers) for those desperate out there.
1. How to find your caves?
I guess even low level heros have stumbled upon at least one cave while exploring the world, but if you're looking for the next one and can't find it might be helpful to know where to look. First of all there are two ways of finding caves:
- exploring the world
- opening chests (in your towns mostly) and sometimes just looking through your towns
The first type of caves are placed on your map and can be found by scouting units. These are (ordered by length/difficulty/distance from your town):
Small
Hollow
Misty
Dire
The caves are placed semi-randomly. That is, the distance from your town (main dwelling) is fixed, but otherwise the placing is randomized. And so the Small cave is placed on the 7th "ring" around your dwelling, Hollow on the 14th, Misty on the 21st and Dire on the 28th. Here's an example of how to find the first cave: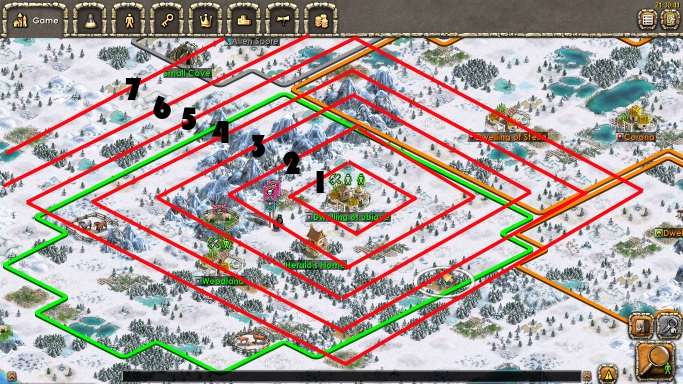 If you trace those rings out further into the world, on each multiple of 7 you will find a cave (well, only until the 28th). In principle - if you really have nothing to do and badly need a cave - you could send your explorers to uncover only the squares on those particular rings, but of course there's other interesting stuff in between :)
The other type of caves can be explored when you find maps for them. In most cases these can be found in your towns (chests especially) but again there's a rule. The maps can be found when your hero reaches a certain level and again the more difficult/lengthy the cave, the higher level you will need. Maps should be found after hero reaches level 10, 15, 20, 25, and 30. If you find one - post the name of it and your hero level (at the time you found it) in this thread or pm me in the game.
The caves with maps are: Deep, Hidden, Sinister, Secret and Legendary.