No matter how detailed the descriptions, some people need to see examples before things click. Here are some examples on how to weed your garden without guesswork. You will find times you have to guess, but the less you do, the better off you'll be.
Step One: clear out the single islands: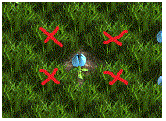 No two groups can touch each other, so since this is a group of 1, all of the sides must be roads.
Step Two: clear out spots between groups: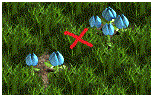 Again, no two groups can touch each other, so the spot between them must be a road.
Step Three: clear out corner groups: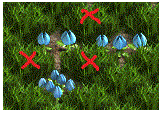 All of these spots can be cleared because if any of the groups went to them they would touch another group.
Step Four: clear out edges where the road must travel.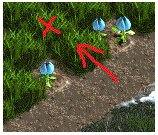 Because of Step Two we know that the spot between these two groups must be a road. All roads must connect to each other, and the only way this road can go is to the X, so you know it can be cleared.
Step Six: clear other obvious places the road must go: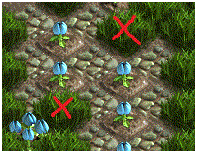 Both of these spots can be cleared because the roads are boxed in from the groups of single flowers.
After doing all of the above you will have a LOT of your garden already cleared. The following posts will show you where to go from here.